Holiday Gift Guide For A Better Night's Sleep
When becoming a new parent there are thousands of products and hundreds of different sources telling you what to buy. As a Pediatric Sleep Coach, I know how important sleep is and want to help you give the gift of a good night's rest this Holiday season. All of the products featured are ones I have used with my own girls and genuinely love. There are even some exclusive discount codes, just for you! Lay back, put your feet up and order some amazing gifts straight to your door.
Woolino 4-Season Ultimate Baby Sleep Bag
This sleep bag from Woolino has got you covered! There's no need to purchase multiple items with changing seasons or even as your baby grows! The 4-Season Ultimate sleep bag will last you a long time (2-24 months) – which is one of my favorite things about it. Not only that, but it also has double shoulder snaps, a seat belt slot and a two-way zipper – making changes easy and sleep disruptions minimal, which is a MUST in any parent or Sleep Coach's book. I highly recommend this product as a gift for your own little one or any new parent this Holiday. Buy now: 4-Season Ultimate Baby Sleep Bag Use code SLEEPRANCH10 to get 10% off your purchase.
Slumberpod
Slumberpod is a lifesaver for any parents on the go – especially ones with multiple little ones. Slumberpod is a quick-assembly privacy pod that helps babies/toddlers get a good night's sleep while away from their own bed, and you know that's my #1 goal. This product is especially important when sharing a room with others or when napping conditions are not ideal. A private, quiet and dark sleeping space is a necessity. It completely encloses a playard (travel crib), mini-crib, or select toddler cots. Buy now: Slumberpod + Fan Bundle [US] Buy now: Slumberpod + Fan Bundle [Canada] Use code SLEEPRANCH at checkout for $20 off.
Little Hippo Mella
If you've been around for a while you know that I am a huge fan of toddler clocks. Mella is a clock and sleep trainer in one to help encourage your little ones to stay in bed longer by lighting up when it's an ok time to get up. It also acts as a nap timer, night light and sound machine. I have used this with my girls and it is such a huge help with short naps, middle of the night wake ups and early risers! Not to mention it's adorable and will make for the perfect gift. Buy now: Little Hippo Mella Use code SLEEPRANCHHOLIDAY for 10% off Expires 12/31.
Nested Bean Zen One Classic
There's nothing like a good swaddle! I wish I had this product when my girls were really young, it would have been a huge help. Newborns have a very strong startle reflex, which causes them to startle, flail and ultimately wake during the night and cry out. The Zen One is versatile and adapts to your baby's needs with arms down, arms in and arms out options. The Zen One not only aids self-soothing with its removable mesh sleeves, but also is lightly weighted to help comfort and lengthen sleep. Buy now: Zen One Classic Swaddle Use code LINDSEYH15 for 15% off (excluding sale items).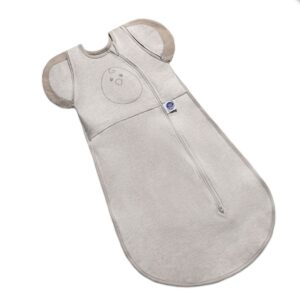 Zippy Jamz
PJ's are a must-have on every parent's wish list – and these ones are at the TOP of mine! Ever struggled with middle of the night changes? Snaps, buttons, inconveniently placed zippers… all with your little one wiggling all over? Yeah, me too. Zippy Jamz are a lifesaver! The zippers down the legs make diaper changes a breeze and keep your little one warm which is great, especially at night. Plus – they have the cutest prints. Buy now: Jippy Jamz Sale items starting at $16.99!
Little Snuggle Co.
Once your little one is 24-months and up, you can incorporate a blanket into their sleeping space. Little Snuggle Co. is a great local small business that creates blankets, weighted blankets and personalized gifts for both mom and baby. I use their weighted blanket for my own daughter Bella, and she loves it! This is definitely a great gift for your own little one or someone in your life. Shop Little Snuggle Co.
Wyze Cam
Every new parent needs a reliable baby monitor. I've gone through a handful of baby monitors with my 3 girls, and I have to say that the Wyze Cam is my all time favourite! It's affordable, you can use multiple cameras (for different rooms), it has playback, and you can see how your baby is sleeping even when you aren't home! Buy Wyze Cam here [Canada] Buy Wyze Cam here [US].
Blackout EZ Curtains
Give the gift of a perfect sleep environment! There are the best blackout blinds I have ever used! You want to ensure your child's room is BLACK for sleep times as this helps their body produce melatonin aka the sleep hormone. This is a great long term, affordable option to do just that! They also keep out heat and cold- handy! Buy now: Blackout EZ Curtains.
Gliz Design Car Seat Covers
These car seat covers are my absolute favorite. Their covers are naturally soft, beautifully designed and handmade – making for the perfect gift. They have a summer and winter collection, check them out below! Buy now: Gliz Design Car Seat Cover.
The Sleep Ranch Newborn Sleep Guide
Have a new or expecting mom in your life? Give them the gift that keeps on giving all season long – my Newborn Sleep Guide! This guide covers everything you'll need to know in those first 4 months, including:
Safe sleep and healthy sleep environments
Sleep expectations from 0 to 4 months
Nap and bedtime routine
How to put your newborn down drowsy but awake
Developmental leaps all babies go through and how they affect sleep.
Lindsey Hennigar is the founder of The Sleep Ranch and a Certified Infant and Child Sleep Consultant through the Family Sleep Institute. She helps exhausted parents and families get the healthy, restorative sleep they need. Your child can LOVE sleep!